Twas' the morning of the workshop and throughout the Fellowship Hall,
All were ready for gift making, instead of shopping at the mall.



Ms. Pearl was giving the youth directions, along with a "scare,"
Because soon all the little ones needing help would be there.


The children rushed in when the clock struck ten,
Their parents thought of sleep and relaxing in their dens.
Four hours of rest and relaxation , they were due.
They were very happy. Their kids had crafts to do.
After fifteen minutes of Worship, there arose such a clatter,
The crafters in the hall, peeked down the hallway to see what was the matter.


The children-they were coming. Most of them ran!
The crafters got ready, looking at the tables they were to man.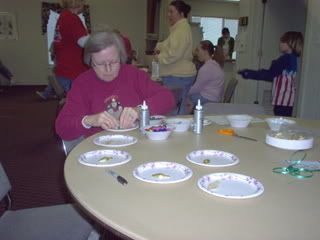 When the children got to the hall, what did they see?
They saw six crafty crafters, ready to get busy-- like bees!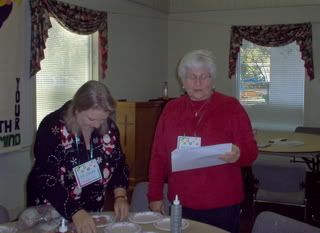 With their scissors, molds and templates, they came,
Ready for giftmaking. Now what were their names?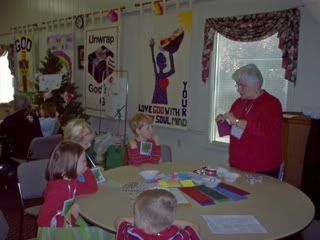 There was Mary, there was Jean and Mary Catherine too.
There was Onalee, there was Claudia and Marie. Yoo hoo!
There were other helpers around who made the day a success,
Like Lindy and Dick and Tara and Spike.
And for gooodness sake, we can't leave out Pearl and the youth!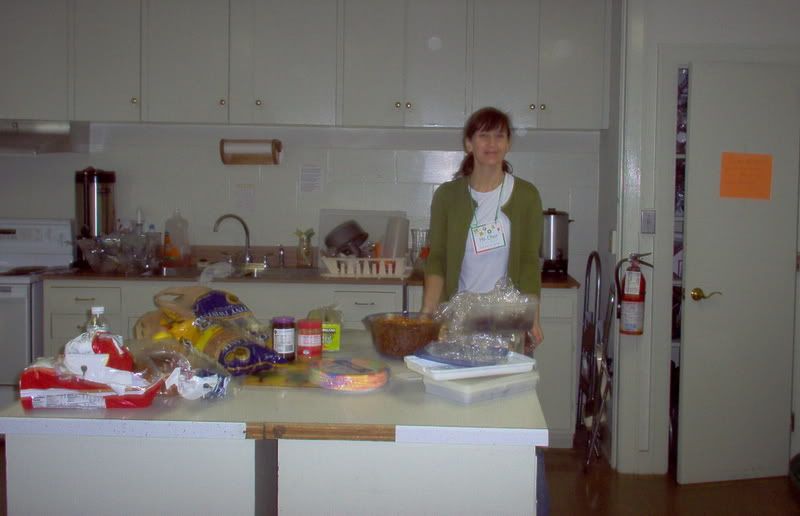 The children made a craft at each crafting table.
They made Christmas pins and decorative gift holders.
They made fragrant bath salts and handmade soaps,
They decorated gingerbread toys and festive yo-yo's.
They decorated holiday post-it notes with stickers, oh so cheery,
and then moved on to handcrafted jewelry!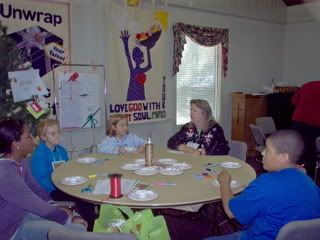 The kids had fun and so did those crafters.
I saw kids beaming with smiles tall as the rafters.


Each child left with six wrapped gifts,
Perfect for someone on their Christmas lists.


The crafters packed up their molds and stickers and glue,
They packed up the paint, the pompoms and the glitter too.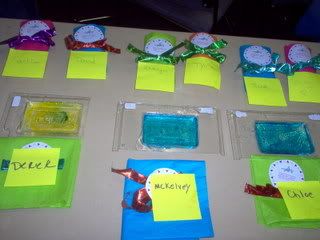 The fun was over. The parents? They came back.
Full of vim and vigor from their break, they came back.
The kids were excited and so proud of their gifts.
They had used their creativity to make needed gifts for their lists.
The vaccum came out and out went the trash.
The lights were turned off and we buttoned and locked the sash.
Everyone got in their cars and drove out of sight!
Happy Crafting to All and to All a Good Night!
Just a few of the pictures of the gift making workshop are posted here. To see them all please visit the
St. Andrew's Youth Page
. Click this link to see all the pictures of the event!
~BUILD FAITH~~NUTURE HOPE~~SHARE GOD'S LOVE~